BShield – Staff Welfare Mobile Application
Where H&S is paramount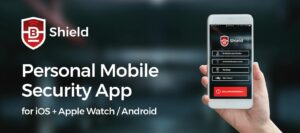 Introduction
This is similar to a conventional land-based personal emergency response system (PERS). Upon activation, the app sends an emergency
signal that includes the user's GPS location. This data is repeated regularly until the app is closed. The app also initiates a telephone call
from the user's phone to the central station to allow the user and an operator to talk. This app can be activated via remote key fob, on the
Apple Watch companion app, or from the phone itself.
About BShield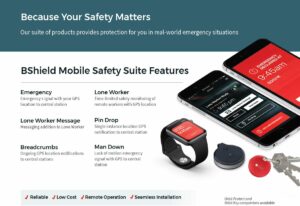 Lone Worker
Lone Worker is for people who work alone or in remote locations. With Lone Worker a user signs out upon arrival at a location for a
predetermined period of time (e.g., 15, 30, 45 minutes or 1 to 9 hours). Upon signout the app sends the information to the central station,
including the GPS location. If the user does not sign back in within the allotted time, the central station generates an alarm indicating that
a lone worker is overdue. The central station alarm is generated within the central station software and is not dependent on the user's
device sending a signal. Once the alarm is generated, the alarm system operator will know the lone worker's location and what emergency
agency to contact for assistance. The app also sends regular location updates while a user is signed out. Users will receive a notification
before the allotted time expires to remind them to either deactivate Lone Worker or reset the period of time.
When BShield is first set up, SECOM will work with you to create a response plan indicating what emergency contacts or agency should be contacted to assist the worker. When the BShield signal is received by monitoring our professional security operators will follow the pre-set response plan ensuring a worker with BShield is never truly alone.
Installation is simple
Download the BShield app (available for Apple and Android mobile devices)
Launch the app
Read and agree to the terms and conditions
Enter your activation code
Contact SECOM today to inquire about BShield.
Not quite what you were looking for? Maybe SECOM Safe mobile duress system is for you.