SECOM SAFE – the latest in personal safety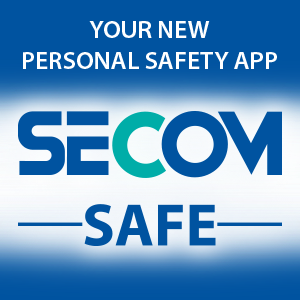 A smartphone app designed for your personal security
SECOM Monitoring center is running 24/7, so any time you feel threatened, a simple shake or tap of your smartphone activates SECOM Safe. That automatically sends an alert to our monitoring center, quickly accessing help from one of our security professionals. SECOM Operators locate you through GPS so your phone can be tracked. As soon as your alert is activated, your phone will begin recording video so our monitoring station can see and hear what is happening.
Click here for a detailed overview of SECOM Safe
A flexible solution
You can choose how you want to send your alert – tap, shake, use the phone buttons, or wear a button around your neck. Your alert can be anything from a good loud alarm to completely silent. Set your own pre-determined response actions, and provide a list of emergency contacts to help us take the appropriate steps to help you.
Your privacy secured
Having the SECOM SAFE app on your phone doesn't mean we'll be tracking you like 'Big Brother'. We spring into action only when you activate your alarm. When the app is closed there is no tracking active. User control for privacy together with no additional hardware required, SECOM SAFE is an easy deployment for resistant staff.
---
Sign up for a subscription now
For subscription levels and pricing plans contact us.
Already using SECOM SAFE?
Update your details here
Not quite what you were looking for?
Maybe BShield lone worker system is right for you.