What system is right for you?
We understand security electronics can be confusing so here's our simple guide to security devices.
The Brains – your system control unit
The main control unit on a security alarm is like the brain – it sends, receives and processes information.
All the devices on your system connect back to the control unit. The controller has programmable logic that determines how the system operates. Control units will have battery backup in case of power loss – the battery will keep a typical alarm operating for around 5 hours depending on it's age and size. Just like a car battery they need replacing every 3-5 years.
The control unit also has the communications module so the alarm can 'talk' to monitoring services. Old systems communicated to monitoring using the analogue (PSTN) phone lines. Now analogue has been replaced with digital communications via IP (internet). Modern systems are designed to communicate using your internet connection and/or have a sim card on board for a cellular transmission. Internet is fine – until you loose power and your internet goes down with your router. So it's best to have a cellular backup to make sure your system is operational even when the power is not.
Human Interface – a way to control the system
Most home alarms will have a key pad near the entry for users to arm, or disarm the system. Sometimes a key fob or remote button is used for convenience. Some alarms have an aftermarket app available for your phone which can turn your system on or off. The latest 'smart' systems use a web hosted security service and allow full control from your phone, tablet, computer, a keypad or remote.
Smart systems control not just the security alarm but cameras and anything else in your home you want to connect – lights, heat pump, doors. Basically anything you can turn on and off with a switch can be connected to today's smart systems using interface devices and Bluetooth technology.
Cameras
Using cameras at home has become popular and is more affordable than ever. Cameras allow people to check in on their pets, see if the kids are home, find out if the courier has been. Different types of cameras have different features like motion detection, night vision, two way audio. Cameras are a lifestyle upgrade for any home and you can view the footage on a secure web page or your mobile device.
Residential CCTV is now more affordable than ever…
cost of camera manufacture follows the general trend of electronics becoming cheaper
the progression of wireless transmission has eliminated need to hard wire cameras
internet speeds have made web hosted recording take over from installing expensive head-end recording equipment
cameras are now an accessory for a modern smart home alarm system like the Helix
Warning! If you are thinking of installing cameras check the manufacturer and web host provider have tight security protocols and are doing regular penetration testing. Not all systems are the same and many have been compromised allowing cameras to be viewed by hackers.
Security Devices
Motion Sensors
Also known as PIR's – Passive Infrared Detectors detect the movement of heat. They are great for covering areas in your home where an intruder is likely to pass through like hallways or central areas connecting rooms.
Put PIR's in rooms that have a possible entry point (a door or window someone could get through) and rooms with attractive items to thieves. Think about AV equipment in the lounge, toys and tools in the garage, jewelry in the master bedroom.
There are different types of detectors that cater for harsh environments, pets and areas prone to false alarms. Other technologies used for motion detection include microwave, radar and CCTV analytics.
Door Reed Switches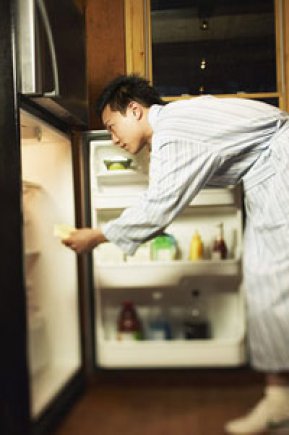 These are magnetic switches placed on doors. when a door opens, the magnet separates and the switch triggers.
Door reeds are 100% pet safe from false alarms and you can use them on slider or swing doors – also cupboards and drawers if you like. Best used on perimeter doors or if you are renting a room you might want one on your bedroom door. With wireless reed switches now available you can use them on almost anything with a door or lid – including the biscuit tin or the fridge!
Sirens
Usually there's an internal siren which is super loud in the house and sometimes an external siren with a strobe which helps raise awareness to people in the area. External sirens are becoming less popular as numbers of violent intrusions rise. People are realizing there is increased risk when confronting intruders especially since rise of methamphetamine use. A good reason to use a security guard service.
Panic Button
There are all sorts of reasons you might want to have a panic button. Often available as a watch strap or pendant – use it to trigger a duress alarm and get help in an emergency. Note that with systems like the Helix smart alarm, you can program the key fob as a portable panic button. Here are some common uses:
Fixed button – usually located bedside is there in case of a home intrusion to summon help
Wireless pendant – for someone at risk of a fall, high dependency or with a medical condition
Mobile duress – with or without a wearable button uses a cell phone for a safety line when out and about
Glass Break Sensor
Detects the shattering of glass. Older glass break sensors used audible frequency of glass shatter to trigger an alarm but with modern safety glass the trend is to use a sensor which activates when pressure inside the room changes.
More Protection for Your Home
Smoke Detector
Smoke detectors on a monitored alarm not only can save lives in case of a fire but can give you a chance to save property too. A verified smoke detector activation can trigger Fire Service dispatch via a monitoring company – early response that could save your home.
Flood Sensor
***NEW TECHNOLOGY*** The trident flood sensor sits on the floor or mounts on a skirting board in flood prone areas like a bathroom or laundry. It has to pins that when wet trigger an alarm. Trident flood sensor is exclusively for Helix smart alarm. The Helix while professionally monitored also sends alerts to users cell phone/s. So disaster can be avoided from common events like forgetting about the running bath or an overflowing tub in the laundry. The trident also monitors temperature and has ability to alarm at preset high or low temperatures – useful for small businesses in the food industry who want an affordable way to monitor refrigeration.
Z-Wave – Connect, Control
Z-Wave is a wireless protocol that essentially focuses on connectivity within the smart home.
As the smart home's popularity explodes, more and more connected devices are being added to people's houses. A lot of these devices – sensors, light bulbs, heating controls, locks, plugs and the like – pack in Z-Wave to talk to each other. A much lower power alternative than Wi-Fi, but with a much bigger range than Bluetooth, Z-Wave operates using low-energy radio waves to communicate from device to device.
SECOM Deliver the Helix smart alarm which has built in Z-Wave allowing users to turn their home into a smart home.
Lighting Control with Z-Wave
Installing basic lighting control is a good deterrent measure making the property look occupied – even when it's not. There are choices of an in-wall lighting control which requires an electrician to install or you can achieve control of a plug in lamp with a smart plug which you can easily install yourself. Lighting can be programmed to turn on and off at set times, controlled remotely from your phone or computer, or programmed to turn on when you arrive home.
Smart Plug for Convenience
A smart plug installs between the electrical wall socket and any plug in appliance. That makes is easy to connect things like your electric blanket, lamps, maybe the fridge at your bach. So you can turn on or off devices around your home from almost anywhere in the world.
Heat Pump Control
A Z-Wave thermostat controller can be paired with your Helix smart alarm giving you control of your heat pump. Functionality depends on the model of air-con you have but generally you can set temperature, changes modes and turn on or off the unit.
Doors and Locks
Modern household locks now often include Z-Wave, meaning you can include your locks on your Z-Wave smart home network. Garage doors that have electric open and close are not forgotten with an accessory being available to control them too.
All features on the Helix are programmable in 'scenes' so for example you could create a scene that for example; when you press a button on your key fob – will turn lights on, unlock your door and disarm the alarm. Imagine then walking into the house which is at the perfect temperature and climbing into a warm bed because you turned the heating on before leaving the office. Sounds good?
Contact us now and upgrade your home to a smart home.