Smart home solutions
Protect your property, improve your lifestyle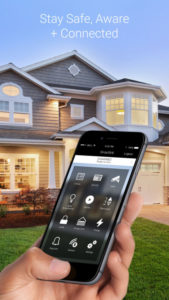 Protecting your beautiful home is only the beginning with SECOM's range of security and lifestyle options.
Our range of latest technology products and services is designed to give your property and family the security they deserve, while bringing the practical convenience of control with a connected – smart home system.
Designed for today's digital world the Helix system offers everything you would expect from a modern system; cameras, control via app, home automation and much more.
More on smart home systems
Rapid response when you need it
SECOM offers total security for homes like yours. We monitor alarms from a certified A1 monitoring center, for an immediate and rapid response when required. It's about giving you and your family peace of mind knowing help is there when you need it.
Keeping an eye on your property
When you're away on holiday, and even when you and your family are at home, patrol services can keep an eye on your property. SECOM can arrange licensed security officers through our subcontractor network who can patrol your property at random times, day or night. They are fully trained to look out for suspicious people or vehicles and to check that entrances to your home are locked and secure when you aren't at home.
---
---
Want to learn more? Fill in the risk assessment form below. One of our security consultants will contact you to discuss your specific needs.
---